The highest quality mineral water is captured from natural springs and artesian aquifers the mineral content of the spring determines the quality and taste of the water. The more pure the water is, along with having alkaline PH, essential minerals and healing ability, the quality is higher and the taste is more refreshing; therefore, the demand is greater.
These properties are resulted from the history of natural source that attracts investors and brands to commercialize mineral water and distribute it in stylish bottles.
There are many mineral water brands in the world but only 10 brands will make our list of top companies for this article!
To pick the top 10 mineral water brands we will consider substances and style such as:
PH
mineral content
purity
taste
natural source history
bottling
Which have been collected from tests data, consumer reviews and brands history:
From Norway
Voss originates from the Nordic artesian aquifers in Iveland which have been naturally filtered by several 100 years old rocks and sands; however it is not bottled in Voss region but 400 kilometers away! It is claimed that manufacturing process is completely carbon neutral!
Voss has aimed at high fashion from the beginning with a designer style, pure looking tube and a crisp taste which makes it ideal for upscale health spas and gourmet food stores. It is available in both still and sparkling forms.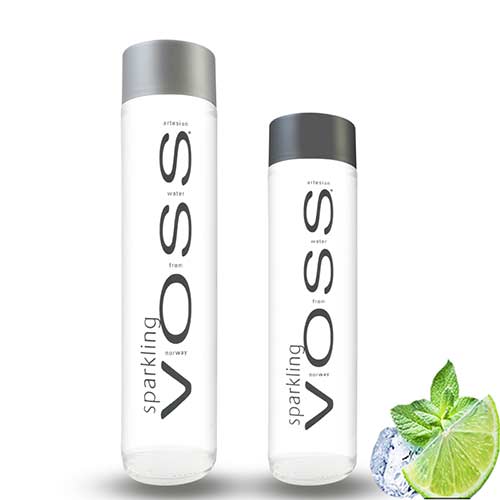 From Finland
VEEN in the old finish tale of Kalevala is the mother of water who is the source of all fresh water on earth and the mineral water is sourced from Konisaajo spring in north of Finland which is one of the least populated areas in Europe. Many layers of sandy hills filter the water before being bottled at the location in low level temperatures of 3-4 centigrade in both still smooth and gentle sparkling forms.
VEEN, just like her name sake, has a maternal personality and sweet taste yet a stylized glass bottle that has been awarded for best design!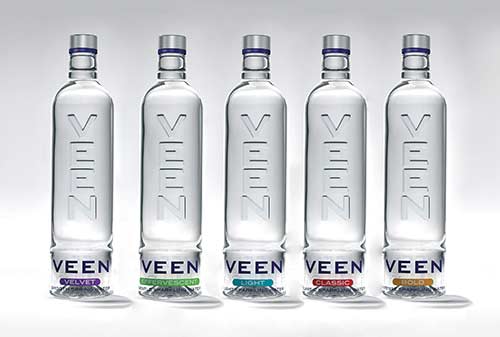 From Argentina
Lauquen Artes is collected at a region connected to Andes Mountains in Patagonia. It is the most isolated site on earth buried beneath 400 meters of sediment which has never been exposed to modern pollutions. At this depth the temperature is almost freezing which makes it an ideal site for water storage.
Lauquen Artes has a unique personality and a classic style with the most pure taste.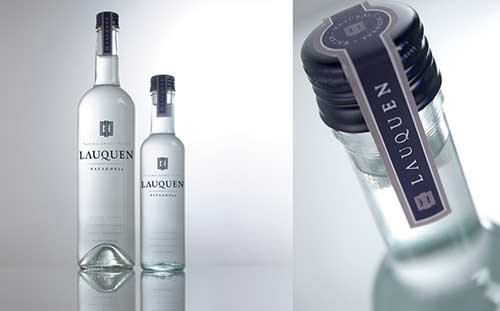 From USA
Indigo H2O is captured from a natural artesian in Indiana where ancient glaciers have left behind aquifers. This water then goes through seven stages of purification process and reintroduction of minerals to further its purity and quality.
Indigo has an exotic personality with indigo-blue colored glass bottle and a unique premium taste.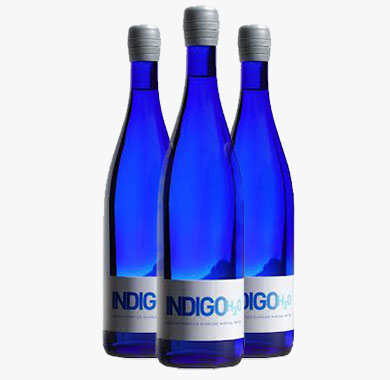 From Germany
Gerolsteiner is collected from natural spring in the Volcanic Eifel which flows from rocky volcanic reservoirs 60 meters underground.  Minerals such as calcium, magnesium and bicarbonate seep into water from the rocks and enrich it with health benefits.
Gerolsteiner has a true pure German personality with clean style and a neutral taste.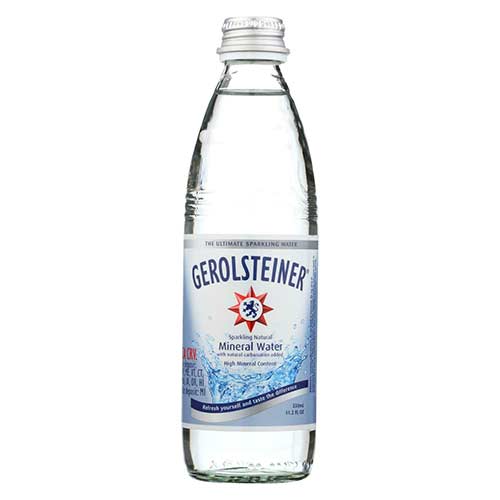 From France
Saint Geron, dubbed as the queen of mineral waters is captured from an age-old spring in the Auvergne region of France with thousands years of natural filtration through sands and rocks. It is famous for its natural sparkling and rich calcium and magnesium content which provide healing properties for digestive issues, anemia and diabetes.
Saint Geron has an artsy glass bottle designed by a painter artist with an elegant personality and a light taste.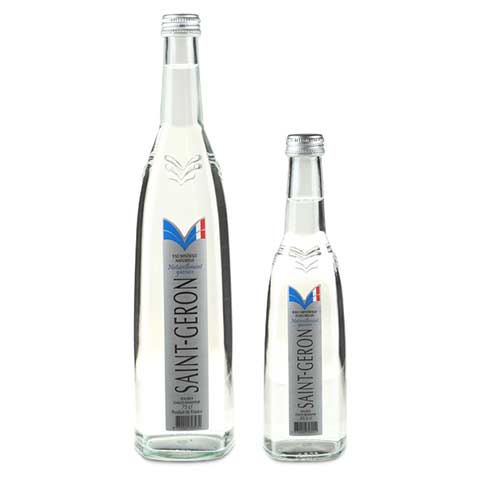 From UK
Hildon's journey begins at rainfall and continues through the chalk-full hills of the Hampshire countryside. 50 years later, the water is collected at an underground aquifer just under Hildon Estate which was built in nineteenth century. The chalk naturally filters the pollutions from water and enriches it with high levels of minerals such as calcium but luckily the sodium levels are low. Then the water is bottled without chemical treatment.
Hildon has a high-end personality with a pure taste and rich design which is exactly why it is served at the house of commons and royal opera house in both still and sparkling forms, however the sparkling form is the first in the world to be produced by low level carbonation that does not overwhelm the taste of fine wines and subtle dishes!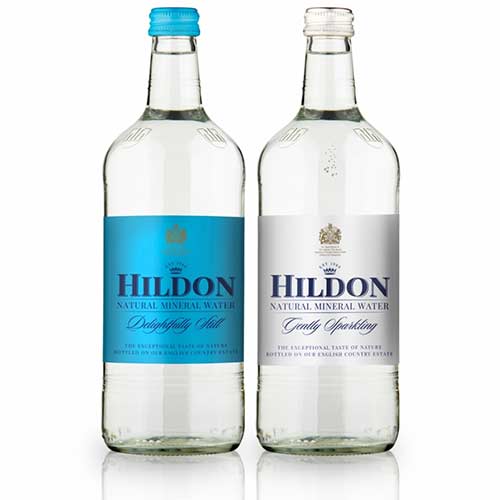 From New Zealand
The Antarctic vapor passes through icebergs of South Pacific Ocean and rains over northern islands of New Zealand. Then it is absorbed deep inside by the soil where it is naturally flittered by many layers of mineral-rich rocks and sands and enriched along the way until it is captured in artesian aquifer 60 meter below the ground.
Nakd mineral water has a luxury sweet taste, fashionable style and a healthy and clean personality which is just right for the trendy health enthusiast!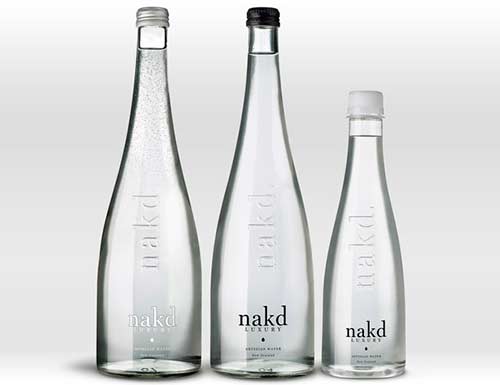 From Italy
Ferrarelle originates from a spring formed at the Sorgeto di Riardo Park close to extinct Roccamonfina volcano in Campania region. It is bottled at the location with claim that the water is tested 600 times per day to make sure the quality stays at premium level! The natural habitat is also protected and the manufacturing site is solar powered in order to complete the commitment of the brand to environmental concerns.
Ferrarelle has a quality-focused personality, Italian style in green glass bottles and a fresh and neutral taste. It is available both in still and sparkling forms.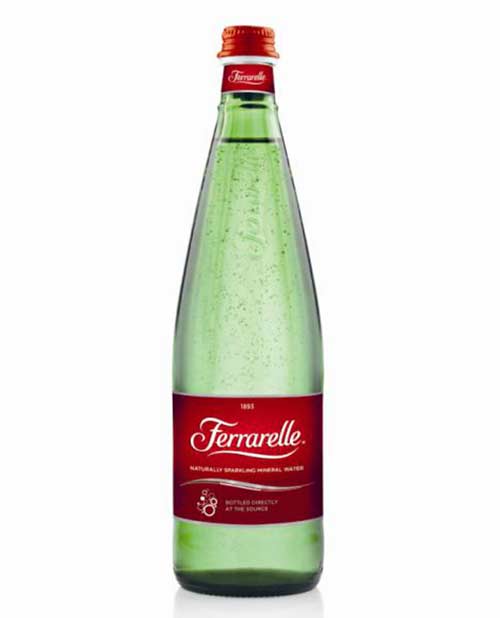 From Fiji
FIJI is collected at the source of an artesian aquifer in one of Fiji's principal islands, the Yaqara Valley of Viti Levu which is famous for its high silica level and calcium and magnesium content. It is bottled strictly without human contact and protected from air pollutions.
FIJI is known for its square style plastic bottle, clean personality and a pure taste.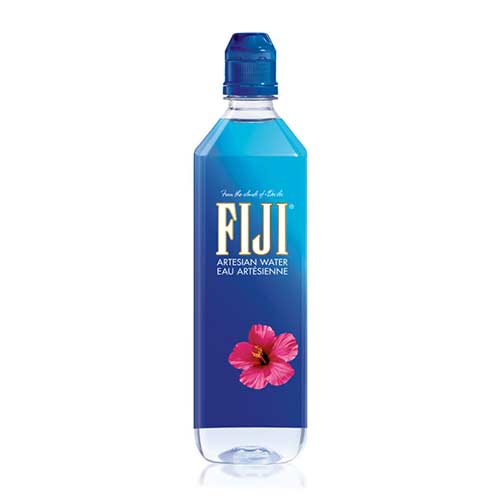 Conclusion
The best natural mineral water has the appropriate mineral content for human consumption which makes up its personality and taste then packaging is designed in a way to match substance with style in order to make the highest quality mineral water bottle!
Hourin mineral water aims to deliver the best natural mineral water from Dimeh Spring in Iran with a unique personality, fashionable style and pure taste which are the reflection of its surrounding natural environment! It has a slightly alkaline PH, minerals such as calcium, magnesium and chloride, healing property for issues such as kidney stone, no pollution and a trendy bottle.
Dimeh Spring is located in Koohrang, Bakhtiari province in west Iran with highest elevation from sea level and 11,000 years of rich history. The natural habitat is one of the greenest and cleanest in the world which has been shielded from pollution and industrialization.