Mineral Water has become so popular that almost everyone is holding a bottle when out and about. Some people even have given up tap water and only drink mineral water!
Conventionally the bottles are made from PET plastic for lighter weight and safer handling and of course lower cost.
The best natural mineral water is captured from mineral springs or artesian aquifers in some of the most beautiful
sites of the world. It is naturally protected by rocks and mountains but it goes through decontamination process as well at the time of bottling without being chemically treated.
The water has passed through earth for centuries and reacted with it to become rich in mineral content. The minerals have raised the PH of water and when springing out of underground to the surface, it has become naturally oxygenated. The mineral content, alkalinity and oxygenation have health and longevity benefit and regulate PH level of your body.
This is the story of mineral waters BUT there are always exceptions! There are mineral waters in the market that are considered luxury because of certain characteristics they have and obviously their prices are luxurious as well!
In this article, we will introduce top 3 of the most expensive mineral waters in the world so every time you reach for your bottle of mineral water, you appreciate it even more!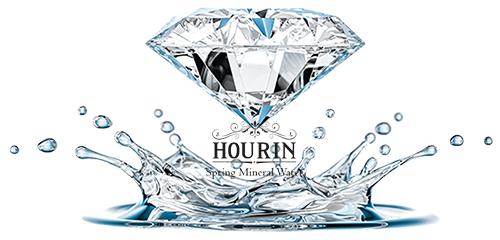 1.Beverly Hills 9OH20
Luxy Collection, Diamond Edition
$100,000 per bottle
This is the ultimum luxury mineral water in the world and only 9 bottles were ever made!
The elegant glass bottle was designed by jeweler Mario Padilla whit 14 karat white gold cap encrusted with 250 black diamonds and 600 G/VS white diamonds!
The mineral water itself is superior due to its collection from the world famous Sierra Nevada Mountain in northern California and infusion with minerals such as calcium and potassium to enhance the mineral profile, alkalinity and also the taste which is smooth yet crisp. These properties make it literally the ultimate water!
If you purchase one of the bottles of Diamond Edition, you will receive the gift of 1-year supply of Beverly Hills 90H2O Lifestyle Collection!
Lifestyle Collection itself is a work of art with sapphire blue and gold glimmering PET plastic bottles and a soft and round shape that resembles simple elegance. The water has electrolyte content and exceptional taste. It was launched due to customer demands.
Beverly Hills 90H2O brand name was created by the inventor Adrian Gluck and was developed by his son, Jon Gluck, President & CEO of Beverly Hills Drink Company.
The brand intended to launch products to share the vitality of Beverly Hills quality water with the world and since the beginning aimed at luxury in terms of quality, taste and packaging.
The brand made its market debut with the Luxury Collection in one liter custom-designed glass bottles. It is dubbed as champagne of waters!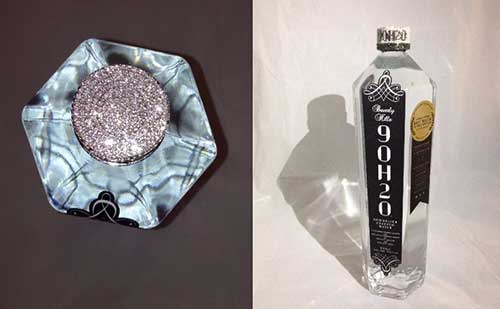 It was awarded by FoodBev Media as the World's Best Water.
It was selected by then First Lady of the United States, Michelle Obama to partner in national Drink Up initiative to promote healthy living through drinking more water.
It was the winner of Beverly Hills Chamber of Commerce award for innovation.
Beverly Hills 90H2O is launching its first international partnership early 2020 in Dubai.
  2.Acqua di Cristallo
Tributo a Modigliani
$60,000 per bottle
This mineral water brand has a hand-crafted bottle of 24-karat gold which was designed by Fernando Altamirano of Tequila Ley based on the artworks of the Italian artist Amedeo Clemente Modigliani. The designer also created the bottle of Cognac Dudognon Heritage Henri IV which is the most expensive bottle of cognac in the world. The design is artistic and luxurious at the same time.
The bottle contains 1.250 ml of the best mineral waters from glaciers of Iceland to natural springs of France and Fiji. The water is also sprinkled with 5mg of 23k gold which takes its mineral profile to the next level and raises its PH.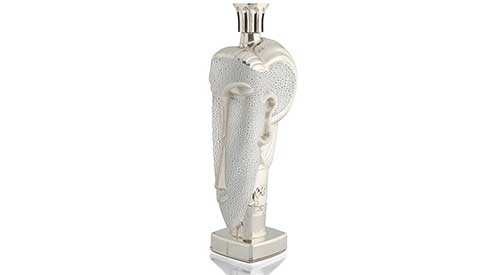 There was only one bottle of Acqua di Cristallo Tributo a Modigliani created which was auctioned in 2010 in which proceeds went to the Planet Foundation!
This mineral water bottle holds the record for Most Expensive Bottle of Water in Guinness Book of World Records!
Acqua di Cristallo also has other styles of gold matte, silver, silver matte and crystal with lower price of $3,600 for a 750 ml bottle. There is also Ice Blue bottle which is priced at $285. All bottles contain the same water mixture and are packaged in a high quality leather case which is ideal for displaying and collecting.
The company also donates 15% of all bottled water sales toward global warming causes!
  3.Bling H2O
The Ten Thousand
$2,700 per bottle
This brand of mineral water used 10,000 Swarovski crystals to design the bottle and that is where The Ten thousand name comes from!
The water is sourced from a spring located in the Great Smoky Mountains of Tennessee which is locally referred to as the English Mountain Spring. The water is extremely pure which is preserved by the use of vacuum seal and secured by a cork. It has a crisp taste that tingles the tongue when drinking.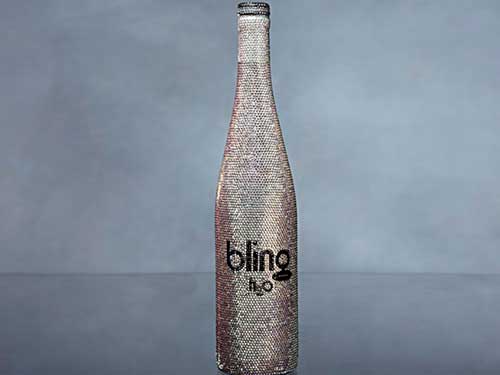 The brand was created by Hollywood writer and producer Kevin G. Boyd who aimed at a luxury image and celebrity approach and that is why mineral water was featured at awards ceremonies like the Emmy's, Grammy's, and the MTV Video Music Awards.
The brand is a perfectionist when it comes to production and bottling as a total of nine steps are performed before the water is considered filtered enough for consumer! They even claim that their mineral water won the gold medal for its 9-step purification process at Berkely Springs International Water Tasting Festival!
Conclusion
The most expensive mineral water is a work of luxury art which also has health benefits. It is an ideal piece for collectors who love to spend their money on unique creations.
But for every day health and longevity, mineral water delivered in PET plastic will suffice without crashing your bank account and there are many great brands in the world that deliver just that!
Hourin Mineral Water is one of those great brands who source the best natural mineral water from Dimeh Spring in Koohrang, Iran. The water is one of the highest quality mineral water in the world with thousands of years of history which has made the water more nutritious with essential minerals, alkaline PH and a pure and fine taste.